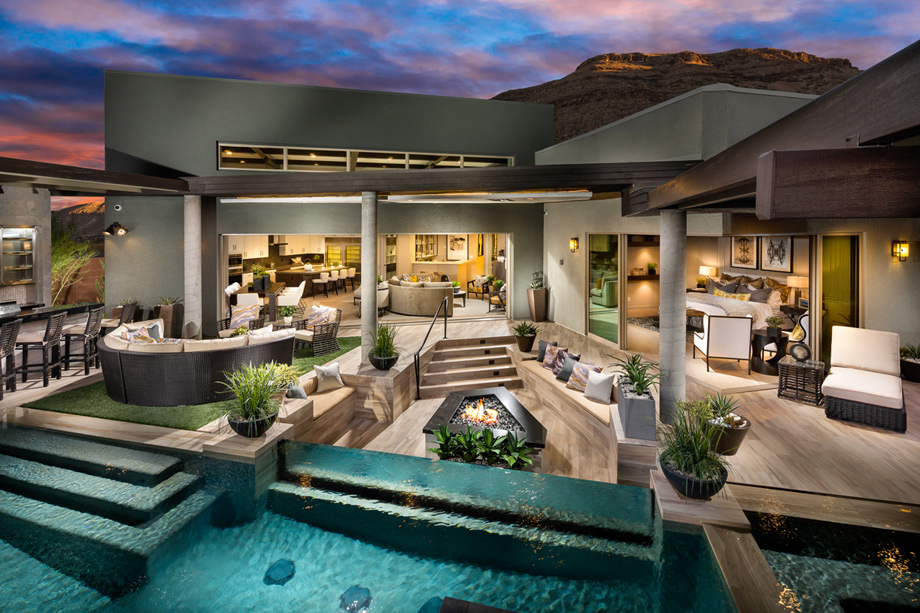 If you are looking to buy a home in the greater Phoenix area, you'll definitely want to explore homes for sale in Gilbert AZ. Ranked as one of the best places to live in the nation, Gilbert is a warm and welcoming town with a lot to offer. Residents enjoy mild winters and year-round sunshine, a thriving economy, major employment opportunities, top-rated schools, exciting cultural and recreational attractions, and a plethora of outdoor activities. Buyers will find that real estate in Gilbert AZ runs the gamut and includes a wide variety of residential choices.
Whether you're interested in a home in a family-oriented subdivision, a low maintenance condo/townhome, a home on the waterfront or golf course, a sprawling desert estate with spectacular views or a home in an active-adult retirement community, Gilbert truly something for everyone. If you are ready to begin looking at homes for sale in Gilbert AZ, you'll want to partner with a qualified agent who can help you navigate the local market. Cathy Carter is an experienced real estate agent in Gilbert who can help you find the right home in the right neighborhood that best meets your home criteria. Cathy would love to speak with you to find out what type of home you're looking for. Why not give Cathy a call today? 480-459-8488
No matter what type of home you have in mind, you're sure to find real estate in Gilbert AZ that meets your requirements. With so many communities and homes for sale in Gilbert AZ to choose from, a qualified Real estate agent in Gilbert holds the key to finding the most valuable properties. Cathy Carter offers over two decades of experience helping her clients buy and sell real estate in Gilbert AZ. She knows the local market inside and out and is always the first to know when new inventory becomes available, ensuring that you have access to the best homes and can secure an offer.
Now is an excellent time to buy in Gilbert as home prices are only going up. Currently, the median home value in Gilbert is $315,294. Home values have gone up 7.4% over the past year and are predicted to rise 3.5% over the next year. The median price of Gilbert homes for sale AZ currently on the market is $329,900 and the median price of homes that recently sold is $306,300 (Zillow). If you are ready to begin looking at homes for sale in Gilbert AZ, call the best real estate agent in Gilbert, Cathy Carter, today! 480-459-8488
Gilbert's top-rated schools are part of two highly-regarded school districts, and residents can choose from public schools, academies, and private schools in the area. Gilbert's Heritage District is home to an exciting art and cultural center and includes a pedestrian-friendly, historic neighborhood brimming with quaint shops, eateries, the Higley Center for the Performing Arts, the Hale Centre Theatre, and public gathering areas. The San Tan Village outdoor mall is another great shopping and dining destination with major retailers, big-box stores, restaurants, and more.
Due to Gilbert's extraordinary weather, residents are able to enjoy outdoor activities year-round such as hiking, biking, swimming, and exploring the many parks in town along with the McDowell Mountains and Red Mountain District Park only a short drive away. Golfers enjoy a number of championship golf courses in Gilbert with dozens more in the surrounding East Valley. With so much to offer, it's no surprise that people are flocking to the area to enjoy a high-quality lifestyle and why real estate in Gilbert AZ is in demand. If you are ready to make one of the beautiful homes for sale in Gilbert AZ your own, give Cathy Carter a call today! 480-459-8488
Work with Award-winning Real Estate Agent in Gilbert – Cathy Carter
Cathy Carter is known throughout the industry for her years of experience, dedication, and her warm and friendly demeanor. Cathy is extremely knowledgeable about the local real estate market and is an expert at uncovering the right home in the right neighborhood for her clients' individual needs. Along with her professional team, Cathy offers a wealth of experience and expertise and will do whatever it takes to ensure a smooth and successful transaction. When you hire Cathy to be your trusted guide and advisor throughout the homebuying process, her services are FREE — real estate commissions are paid by the seller.
Please give Cathy Carter a call today at 480-459-8488, or fill out the online contact form, and she will be more than happy to answer any questions you may have.
CATHY CARTER, REALTOR®
ABR, CRS, CDPE
2450 S. Arizona Ave, Suite 1
Chandler, Arizona 85286
Cell: 480-459-8488